About INGESA
Our company was founded under the name of PURAGUA in 1977, thanks to the dedication and ability of the family Ordóñez - Jiménez and with the aim of designing, manufacturing and installing water treatment and supply systems, and other chemical liquids.
In 1988 the society "Ingesa, Instalaciones Generales y Servicios del Agua, S.L.", specialized in manufacturing and service of additive dispensers for the industry.
Finally, a large investment in R&D carried out during the year 2015, has led us to create the current society, with the name of "Ingesa, Ingeniería y Equipos, S.L.".
This evolution has led us to the automation of our equipment, the custom-made design of them and the study of very promising new projects, becoming a leading company in Europe.
Passion, experience and capacity to innovate, encourage our commitment and guide us in all the production stages, combining handicraft and high technological knowledge, to consolidate the rising trajectory that has allowed our equipment to be a part of the production line of the concrete industry for more than 40 years.
Look at our history
ACHIEVEMENTS IN RECENT YEARS
The success of our company is the result of the teamwork that promotes strong and long lasting partnerships with our customers and partners. More than 40 years of experience in this aspect, with a high degree of satisfaction of our customers which reaches the 95%.
Our equipment has the perfect combination of functionality, reliability and sustainability at a very competitive price. Proof of this are the more than 20,000 machines sold in the last few years, which have made us the leader and manufacturer of prestige in Europe:
Degree of Satisfaction
of Our Customers
---
Manufacturers of additives
Concrete manufacturers
Cement manufacturers
Manufacturers of concrete plants
In addition to suppliers,
partners and individuals
---
Lusitronic
Lusitania
Pesamat
B-92
Others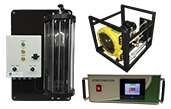 Pumps
Control
Panels
Hoses
20,000

Kilometers Installed
Our presence has become essential for our customers. They have a level of confidence on us and our equipment are so reliable that any other company has succeed in this industry like us. In that regard, INGESA specialize in providing an integral maintenance service of our equipment, offering this way a great extra value to our products.
6,000

Precast and concrete plants, with integral maintenance service
50,000

Problems successfully solved before the deadline
9,000

Equipment removed and recycled
Our Partners
We specialize in making custom-made equipment for our customers
That is why, in Spain, our machines have been used to build the infrastructures of the AVE (the Spanish high speed railway), the 90% of the civil work, the Olympic Games of Barcelona 92, the City of Arts and Sciences of Valencia, the port of Barcelona and a long etcetera.
Internationally, we have the confidence of multinational companies such as OHL, Isolux Corsan, Cemex, etc. that have led us to participate in large-scale projects and to end up being official suppliers in a lot of countries.